CDP-S90/S100/S110/S150/S160/S350/S360 and PX-S1000/S1100/S3000/S3100 users
To use the piano remote controller, the musical instrument and the app must be configured so that they have the same settings.
Use the procedure below to configure the settings.
1.Tap

2.Tap "Send from app to piano"

To match the settings to those on the musical instrument, tap "Send from piano to app".

3.Tap the destination for saving the desired settings.

Choose "Previous data" or a save location from 1 to 4.

4.Tap "OK"

The settings on the musical instrument and app are configured in the same way using the specified method and the piano remote controller screen appears.

Tap "Cancel" to return to the top menu in the app.
①

: Returns to the top menu.

②

Displays the model name for the connected musical instrument.

③

: Recalls the settings save screen.

④

: Chooses whether to load the settings specified on the musical instrument into the app.

⑤

: Displays the manual.

⑥

Tab to recall the settings screen
Saving settings
You can save the settings specified in the app.
Tapping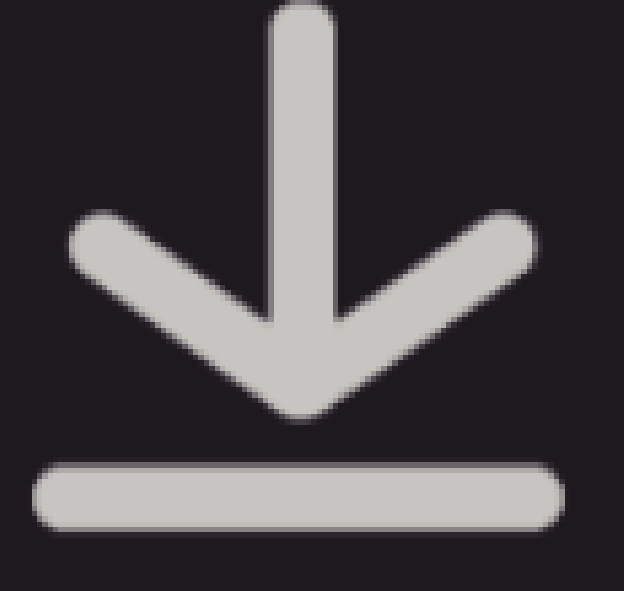 displays the screen shown below. Proceed as directed by the on-screen instructions.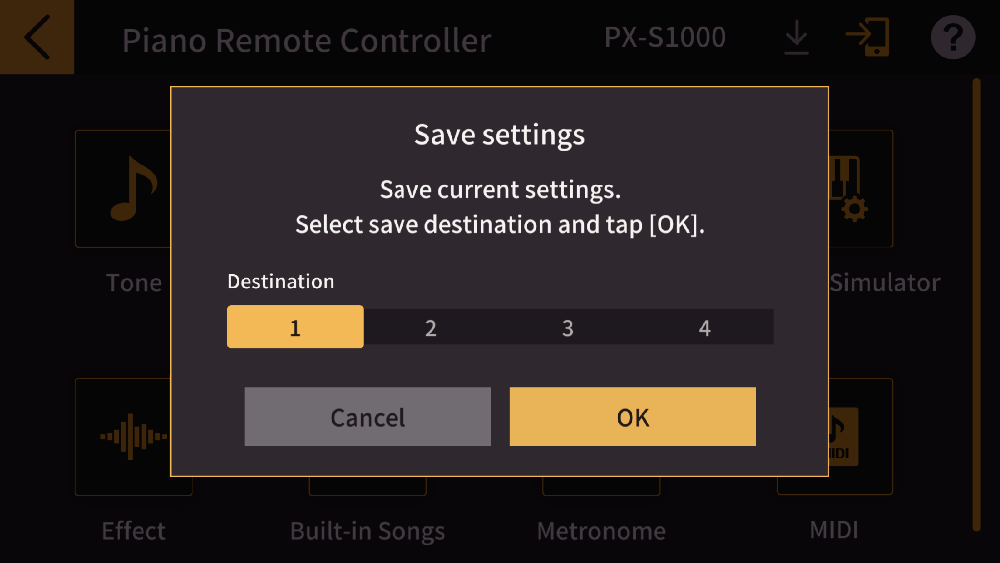 Choose 1, 2, 3 or 4 as the save destination. Tapping Cancel returns you to the previous screen without saving the settings, while tapping OK saves the settings and then returns you to the previous screen.
About the settings
①

Tone

Sets the tone of the musical instrument.

②

Keyboard / Sound Source

Configures settings such as the touch response (a function that assigns the strength of the player's touch based on how hard keys are pressed), scale and pitch for the entire keyboard or sound source.

③

Pedals, etc.

Configures the operation of the pedals and the pitch bend wheel and knob on the left end of the musical instrument keyboard.

④

Acoustic Simulator

Sets the resonance diffusion and depth from features such as the keyboard sound and damper pedal.

⑤

Effect

Set when applying effects such as reverb and diffusion to sounds.

⑥

Built-in Songs

This can be used to play the demo songs built into the musical instrument, songs stored on a smart device and songs recorded by the MIDI recorder, and to practice using those songs.

⑦

MIDI Recorder

Configures playback and recording for musical instrument performances using the built-in MIDI Recorder.

⑧

Accompaniment

Configures the function for automatically playing an accompaniment. This allows you to play with backing from an ensemble, as with a backing band.

⑨

Metronome

Turns the metronome on and off and sets the tempo, etc.

⑩

MIDI

Configures settings such as the transmission channel and turning MIDI data output from the musical instrument ON/OFF.