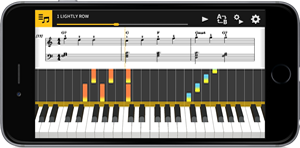 Main Features
Available songs
- 50 built-in songs
- MIDI files can be imported via browsers such as Safari
- Chord Play feature automatically determines chords and generates chord accompaniment for the left-hand part


*Chords from the 50 built-in songs are not automatically generated because they are pre-programmed.

- Specify right- and left-handed parts in the track settings
Music score window
- Show score for right-hand only, left-hand only, or both hands
- Specify number of measures per line
*Chordana Play generate a music score from the MIDI file, and therefore the score shown may differ from the original music score. For detailed scores with grace notes and similar elements, up to 32nd notes are displayed. In the case of MIDI files that are interpretations, rather than exact renditions of the original music, the timing and note lengths may differ from the original score.
Piano roll window
- Show piano roll notation for right-hand only, left-hand only, or both hands
- Specify the size of the visible keyboard (up to 61 keys)
Song playback
- Standard playback and AB repeat
- Change tempo (20 to 300 bpm)


*When you transmit song data to electronic musical instruments, change the tempo from 20 to 255 bpm.

- Transpose key (-12 to +12)
Lesson functions
- Step lessons (Off / 1 / 2 / 3)
- Specify part (Both hands / Right hand / Left hand)
- Scoring feature
Keyboard link function
- Performance mode: Transmit melody and chord data along with the song playback.
- Save mode: Save the song data to the keyboard
---
For compatible OS/devices, check the App Store/Google Play.
---
"Apple," "iPhone," and "iPod touch" are trademarks of Apple Inc., registered in the United States of America and other countries. App Store is a service mark of Apple Inc.
"Google," "Android," and "Google Play" are trademarks or registered trademarks of Google Inc.
Other service and product names, etc., mentioned herein may be trademarks or registered trademarks of their respective companies.