The easy way to enjoy playing an instrument.
Functions that offer lots more ways to enjoy music.
Performance pane
[Piano Pad]

Tones: Acoustic piano, electric piano

[Guitar Pad]

Tones: Steel-string guitar, nylon-string guitar

[Rhythm Pad]

Patterns: Simple 1x5, Simple 2x5

[Evaluation Function]

After you tap along to a track, a radar chart is displayed indicating whether you lean towards the pop, rock, latin, dance or jazz genre.
* You can also purchase add-ons to increase the range of tones and rhythm patterns for each pad.
Additional piano pad tones
MELLOW PIANO, BRIGHT PIANO, PIANO PAD, STRINGS PIANO, ELECTRIC PIANO2, ELECTRIC PIANO3, ELECTRIC PIANO4, ROCK ORGAN, JAZZ DRAWBAR, ROTARY DRAWBAR1, ROTARY DRAWBAR2, CLAVI, XYLOPHONE, VIBRAPHONE, MARIMBA, STRINGS, SYNTH STRINGS, SYNTH BRASS, VA SYNTH1, VA SYNTH2, VA SYNTH3, SEQ SAW1, PLUCK LEAD1
Additional guitar pad tones
NYLON-STRING GUITAR2, STEEL-STRING GUITAR2, STEEL-STRING GUITAR3, CLEAN GUITAR, OVERDRIVE GUITAR1, OVERDRIVE GUITAR2
Additional rhythm pad patterns
Alternative, Blues, Country, Dance1, Dance2, Electronic1, Electronic2, Hip-Hop, Jazz1, Jazz2, Jazz3, Pop1, Pop2, Rock1, Rock2, Reggae, Soul R&B
Guide pane
Uses colors to show changes in sounds
Shows the performance and recording history logs
Shows the accents in songs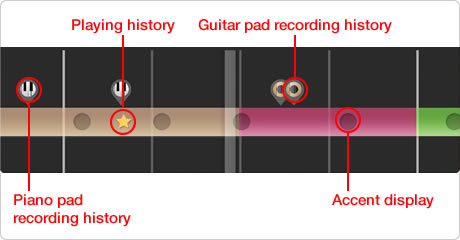 Audio
Play/Stop/Record
Changes the tempo (50% to 200%)
Changes the key (±1 octave, by half-tone)
Changes the vocals/accompaniment balance
Changes the song/tap balance

MIDI IN/OUT
Sound of the chords analyzed during playback
Sound of the Performance pane tapping
Analysis Parameters
Number of chords per bar
Tempo (slow, normal or up-tempo)
Fixed tempo (ON or OFF)
Time signature (4/4, 3/4 or 5/4)
Demo Movie
Record function (DEMO SONG 1)
Record function (DEMO SONG 3)
Introduction of function (DEMO SONG 3)
Music/Arrange/Piano : Junichiro Kabayama, Singer/Words : Maya Hatch
Settings
---

• Available from: App Store
• System requirements: iOS 11.0 or later required.
• Compatible devices: iPhone6 or later(Except for the iPhone SE),
iPad Pro, iPad(5th generation or later), iPad Air or later,
iPad mini(4th generation or later)

•If using the MIDI function, connect to an electronic musical instrument
via an Apple Lightning-to-USB Camera Adapter + USB cable.
• iPad and iPhone are trademarks of Apple Inc. registered in the US and other countries.
• App Store is a service mark of Apple Inc.
• Other product names and so forth are generally trademarks or registered trademarks of the respective companies.